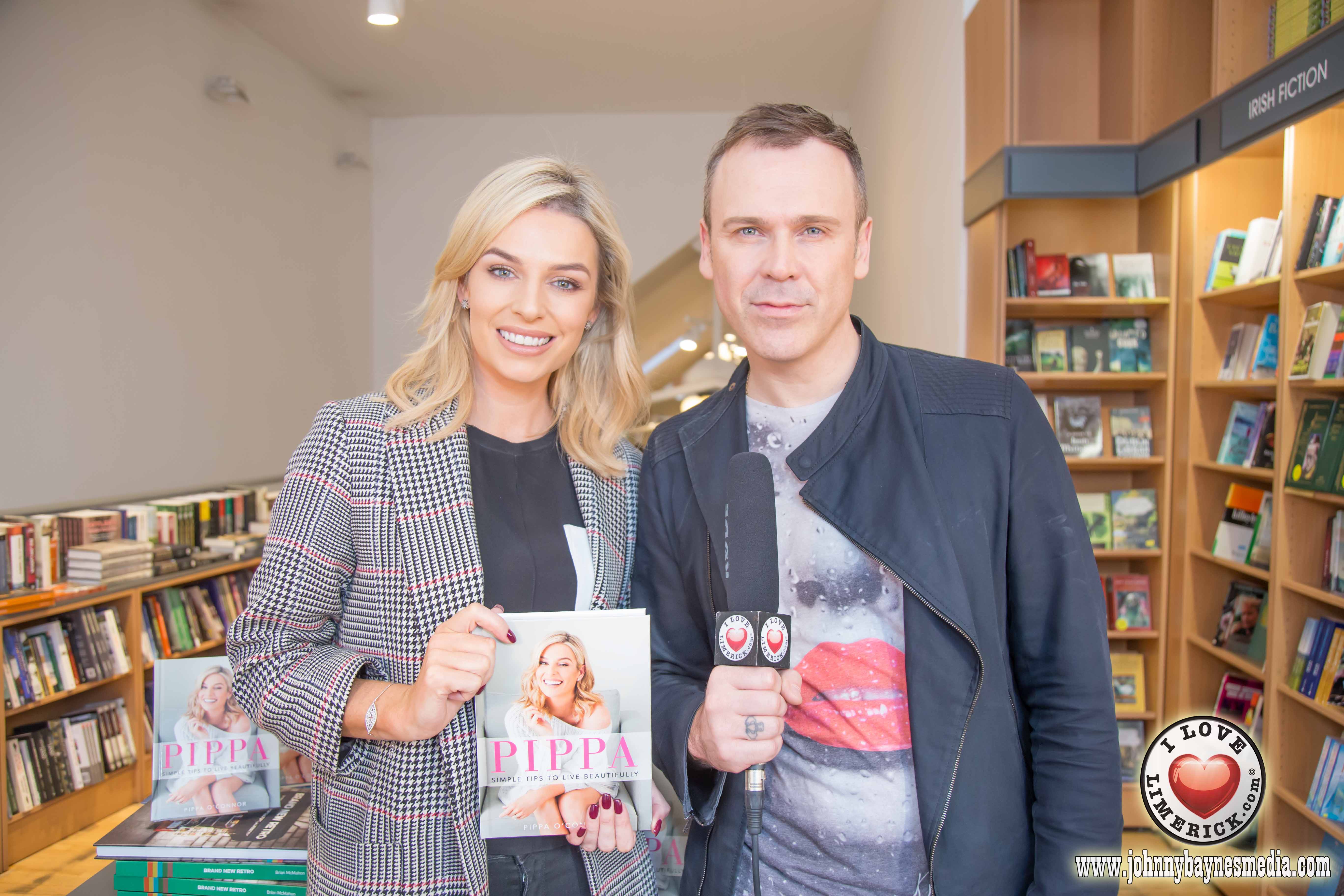 Pippa O Connor book signing meet and greet happened on Saturday, October 15 at O'Mahony's Book Shop for her Pippa, Simple Tips to Live Beautifully Book Tour.
People traveled up to five hours to meet Pippa and get their book signed and a picture. The audience ranged from young, enthusiastic bloggers to working mothers who enjoyed Pippa's tips and tricks in her book.
The Pippa O Connor Book, Simple Tips to Live Beautifully, Pippa shares her secrets for looking good, living well and feeling great. Stuffed with practical tips and inspirational advice, Simple Tips to Live Beautifully is a book for everyone, aged 16 or 60, who wants to discover their own personal style and to build the confidence to celebrate it.
Before her signing, Pippa spoke with Richard Lynch about her book, blog and new denim line 'Poco by Pippa' which was released that morning.
"The book is a reflection of pippa.ie and I was getting a lot of messages all the time asking the same kind of questions. What's appropriate to wear to a wedding? How do I dress for an interview? How do I make my living room really chic looking on a budget? I just thought, 'I'm going to put all of this into a beautiful book'." said Pippa O Connor, "With a book like mine you want the tips to be practical and things you can actually do and achieve yourself whether it's how to do the winged eyeliner or how to get ready in ten minutes."
Pippa O Connor's website, pippa.ie, has grown enormously since it started four years ago and has gained a substantial audience. Pippa admits that it all began as a hobby while she was pregnant with her first son Olly and just grew bigger over time.
When asked about how to juggle between having a career and being a mother Pippa said "I think when you're doing something that you love, you don't mind getting up earlier in the morning and going to bed later at night. I'm just thriving on everything I'm doing because I'm so passionate about it but I suppose my one bit of advice is to try and get a bit of balance."
Poco by Pippa, Pippa O Connor's new denim range was released on Saturday morning and gained huge excitement from all of her fans. "People are really excited about it which makes me so excited! I've been thinking about this myself and with my team for a long time now so to finally have it out there is like a big relief off my shoulders. It consists of five styles of denim, something for every woman. We'll start off with there and who knows what will happen in the future!"
To purchase Pippa O Connor book Simple Tips to Live Beautifully click here.
Check out Pippa's website here.
Follow Pippa's latest news on Facebook, Twitter, and Instagram.
For more of the latest books from I Love Limerick click here.
To watch the Pippa O Connor book signing interview with Richard Lynch click the video below!