MRS MakeUp and Leanne Moore celebrate the new Cailyn Ireland Cosmetics stand at the Crescent Shopping Centre
by ILoveLimerick correspondent Eimear Kelly 
Cailyn Ireland have opened a new island floor cosmetics stand in Shaw's Department Stores at The Crescent Shopping Centre and to celebrate the official launch on Wednesday, May 30 at 7 pm, Michelle Regazzoli Stone aka MRS Makeup, one of the most well-established make-up artists in Ireland and the UK will be holding an instore masterclass, doing a makeover on fitness guru, Leanne Moore.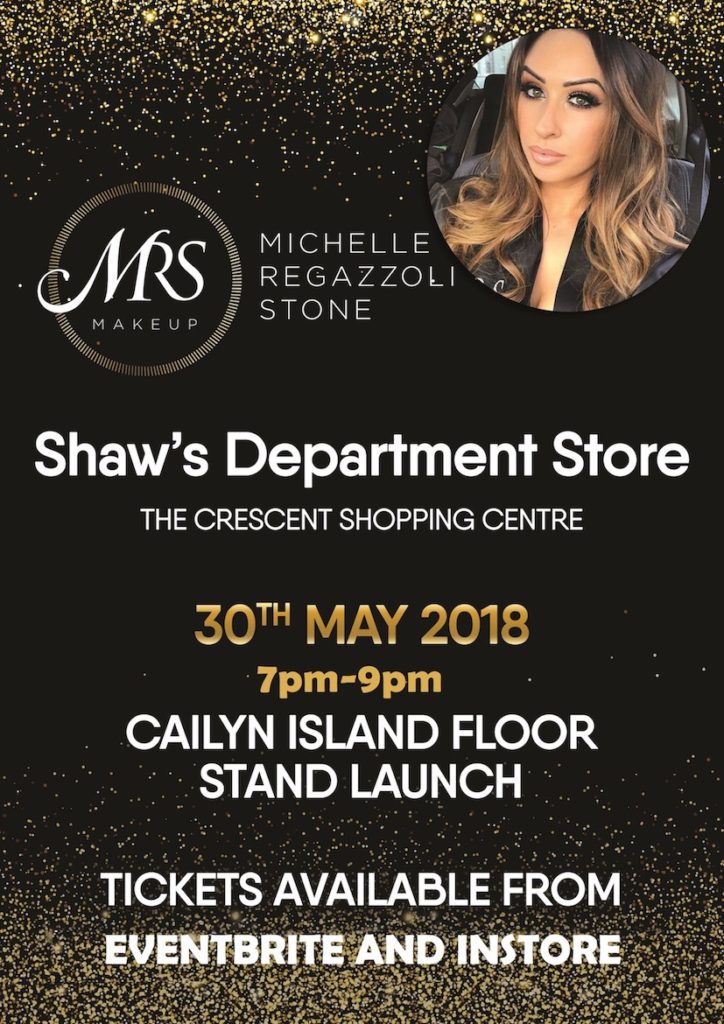 MRS Makeup, Michelle Regazzoli Stone is a very well established and talented makeup artist whose work is regularly featured in many publications and magazines such as Hello!, Closer, VIP, RSVP and Confetti Bridal to name but a few. Some of Michelle's regular clients include former Miss World Rosanna Davison and The Only Way is Essex stars, Samantha and Billie Faiers.
Leanne Moore, You're a Star winner, journalist, TV Presenter, panto star, fitness guru and blogger is Mrs. Makeup's model for the evening. Mrs. Makeup will guide guests through the Cailyn Cosmetics product range, showing her tips and tricks to make the most out of the products.
Michelle said, "I am so excited to meet everyone in Limerick and thrilled to be making over one of Limerick's leading ladies Leanne. Leanne is a fitness expert and I want to do a look on her focusing on the 3 key essentials of Cailyn – Long wear, smudge proof, waterproof. Leanne is the ideal person to work on to show just how incredible Cailyn cosmetics are."
Leanne said, " I am so excited as I love makeup as much as any girl. As a girl on the go, I am extremely active and I want to learn how to apply my makeup so it lasts throughout the day, but stays looking fresh. I am also eager for Michelle to show me how to take my day look into night. She is the expert!"
Annette Gayson of Cailyn Ireland adds, "Makeup application, one on one lessons and fantastic customer service awaits you at Cailyn, where our wonderful makeup artists Aimee and Lisa are on hand to pass on all the tricks and tips to get the most out of your products. We are honoured to open our first national outlet showcasing over 60 lines in Limerick, my home and my favourite place to be."
Produced in L.A., Cailyn Cosmetics was established in 2000 and the brand was introduced to Ireland in 2014  and has gone from strength to strength. They provide a variety of high-quality product lines including mineral based face and body makeup, as well as naturally inspired skin care lines and nail care products.
Cailyn was originally created for the high fashion industry so it is high definition, super long lasting, hard wearing makeup. Mineral based and certified cruelty free, it truly is beauty engineered!
Tickets for the Cailyn Ireland MRS MakeUp Masterclass taking place from 7 pm to 9 pm on Wednesday, May 30 in Shaw's Department Store at The Crescent Shopping Centre can be purchased on Eventbrite and instore for only €20. Ticket price is redeemable against the purchase of two products on the night. For more info contact Annette at [email protected].
To purchase tickets click here
To read more beauty related stories click here
To read Mrs. Makeup's blog click here
To read Leanne Moore's blog click here
For more information about Cailyn Ireland click here