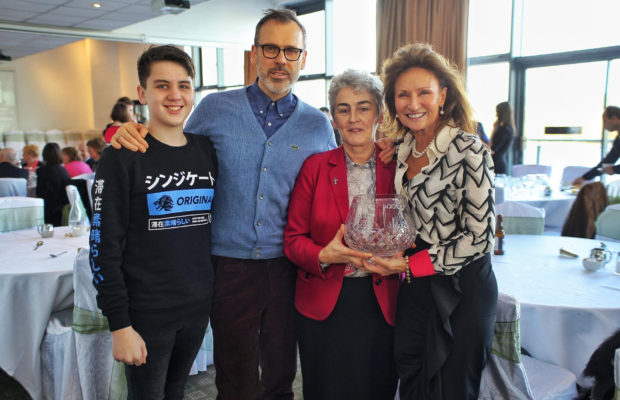 Pictured at Limerick Person of the Year awards, Luke Culhane, Limerick Person of the Year 2016, Richard who won Limerick Person of the Year in 2011, Sister Helen Culhane, Limerick Person of the Year 2017 and Celia Holman Lee who was a Lifetime Achievement Winner in 2014. Picture: Cian Reinhardt/ilovelimerick
Children's Grief Centre founder Sr Helen Culhane named Limerick Person of the Year 2017
The founder of a local support service which has helped more than a 1,000 children affected by loss through death, separation or divorce, has been named Limerick Person of the Year 2017.
Sr Helen Culhane, Limerick Person of the Year 2017 received the top honour for her dedication and commitment to providing grieving children and young people with a place and space where they are given the opportunity to examine feelings associated with loss, and learn that they are not alone.
Sr Helen Culhane, Limerick Person of the Year 2017 founded the Children's Grief Centre in 2009 which sees around 30 children a week, aged four to 18 years. Seventy percent of the children who attend have separated parents while 30 per cent have suffered a bereavement.
In total, there are approximately 30 volunteers attached to the centre. The volunteers include a retired career guidance teacher, a play therapist, psychologist, psychotherapist, and an art therapist.
Her work had seen her selected as the January 2017 Limerick Person of the Month and her work stood out among the judging panel.
Accepting her award Sr Helen Culhane, Limerick Person of the Year 2017, said: "I'm shocked to be quite honest and very humbled to receive this award.  Thanks to everyone of you and to all those who organised the event today."
"The work that I'm involved with, we see it as very important work as we are supporting children who are impacted by loss due to bereavement, separation, and divorce, and if by winning this award it draws attention to that [work], it will be a goal achieved."
At the gala event at the Clayton Hotel in Limerick, former Minister for Finance, Michael Noonan TD was also honoured with a Lifetime Achievement Award.
Now in its 17th year and sponsored by The Limerick Leader, Southern Marketing Design & Media and the Clayton Hotel, the Limerick Person of the Year Award was set up to honour the achievements and success of local people.
Eugene Phelan, Editor of the Limerick Leader said: "There is fantastic diversity among the 12 monthly award winners from Diana Mirza, a world chess champion to Joy Neville, voted the number one rugby referee in the world."
"All strands of life are covered from the local garda who put his life on the line to save others, to a young entrepreneur, whose invention may improve efficiency in hospitals all around the world, to a young solicitor based in Dublin, who is flying the flag for Limerick through the Capital Limerick project."
"These are just ordinary people doing extraordinary things and who have during 2017 made Limerick a much better place."
Mayor of the City and County of Limerick Cllr Stephen Keary said: "Congratulations to Sr Helen Culhane and Michael Noonan on receiving their awards today.  Through your work, although in different spheres, you have always shown a commitment to help Limerick, in your own particular way, and we are all reaping the benefits. I would also like to congratulate all the other monthly recipients for their hard work and dedication in promoting Limerick."
Former Minister Michael Noonan has been honoured with a Lifetime Achievement Award for his work down through the years as a government minister and a public representative for the area.
Speaking after he received the Lifetime Achievement Award Deputy Michael Noonan said: "I'm emotional after all those beautiful tributes paid by everybody. This is a great honour, I would like to thank all the sponsors in conferring this honour on me today. You can get honoured in many parts of the world on occasions but to be honoured in one's home city is very important."
"It would be fairer if this was a group award because a lot of the achievements in Limerick over the last seven years are the work of many people.  What I was good at was identifying ideas that might work and implementing them."
Pat Reddan, General Manager, Clayton Limerick Hotel said: "We are delighted to sponsor such an event that showcases the very best of Limerick and the people who call it home, they truly are all inspirational."
Congratulating all nominees, Dave O'Hora of Southern Marketing Design & Media said: "Each of the nominees have in their own way made an outstanding contribution to the cultural, sporting, business and community scene in Limerick, today Limerick celebrates and it should."
The ceremony also included a tribute to the late Dolores O'Riordan by Lorcan Murray followed by a breathtaking performance of The Cranberries' 'When You're Gone' by Singer Emma Langford.
Past winners of the title include ilovelimerick's Richard Lynch, philanthropist JP McManus, world champion boxer Andy Lee, rugby stars Paul O'Connell and Tony Ward, and anti-bullying campaigner Luke Culhane.
This year's Limerick Person of the Year judging panel consisted of Eugene Phelan, Editor of the Limerick Leader, Conn Murray, Chief Executive of Limerick City and County Council and Cllr. Stephen Keary, Mayor of the City and County of Limerick.
For more information on the Children's Grief Centre, go here.
For more stories on Limerick Person of the Year, go here.