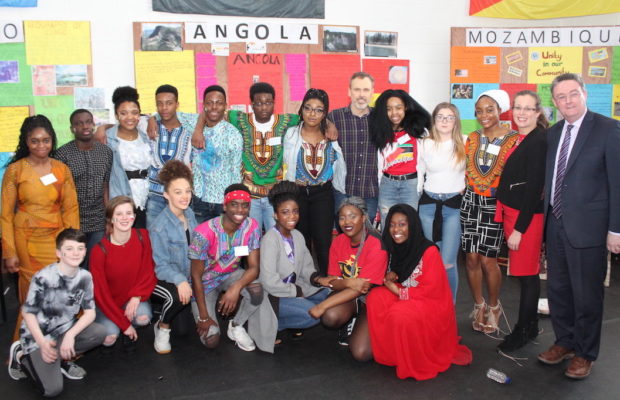 Thomond Community College Multicultural Day 2018 – Richard Lynch pictured with students and Principal Eugene O Brien. Picture: Ciara Maria Hayes/ilovelimerick
Thomond Community College Multicultural Day 2018
https://www.facebook.com/ilovelimerick/videos/10157311732441110/
Thomond Community College Multicultural Day 2018 was held Friday, March 9 and there were plenty of colourful photo opportunities available with participating students in national costume. Richard Lynch was honoured to be the Master of Ceremonies again for the sixth consecutive year. Previously, the event was held at the Salesians School before it closed two years ago and every year the event is organised by an amazing teacher named Siobhan Conway.
Thomond Community College Multicultural Day 2018 was a hugely worthwhile, inclusive event, which gave each and every student the opportunity to showcase their home nation and educate their fellow students. To see the pride of students in their native traditions and language is just wonderful. So many students can truly find a voice through this event and all in attendance, students, staff, parents, and guests, learned so much – it truly is an education for all. The day created a real opportunity to celebrate both diversity and integration.
Countries that were showcased at Thomond Community College Multicultural Day 2018 include Afghanistan, Bangladesh, Lithuania, Nigeria, Pakistan, Morroco, South Africa, Poland, Nigeria, The Congo, The USA, and Syria to name just a few! Each country had a visual display of all that makes their individual cultures unique and interesting, including fun facts, history and weather information. Many of the students also wore traditional costumes for the day. Delicious food, prepared and cooked by the students and their families, further reflected the intercultural theme.
An afternoon of international music and dance attended by the whole school, brought the celebrations to an end. The afternoon's acts featured members of the Rusangano Family as part of Music Generation Limerick, student singing group 'Sister Act' from Nigeria and rapper Victor Hogan Poole to name a few. There was also some Irish dancing and African drumming.
Being close to St. Patrick's Day, the event was seen as an appropriate time to hold Thomond Community College Multicultural Day 2018 and give a well-deserved forum to the citizens of the new Ireland, and a real opportunity to share heritage. This is a unique event across the schools of the Limerick-Clare E.T.B., and indeed further afield, attracting praise from Limerick migrant rights organisation Doras Luimni over the years. This initiative was running for almost 10 years in Salesian Secondary School and was called Salesians Multicultural Day – Integration through Education. Following amalgamation and the establishment of Thomond Community College in September 2016, there was no hesitation in continuing with an event of such enormous popularity and previous success.
Students from local national schools also attended on the day, as did the Mayor of Limerick and RTE filmed at the event earlier in the day. At a time when it was never more important to demonstrate leadership in integration it really is a worthwhile initiative.
To read about last years Multicultural Day at Thomond Community College click here.
To read more about Multicultural events in Limerick click here.
To visit the school website go here