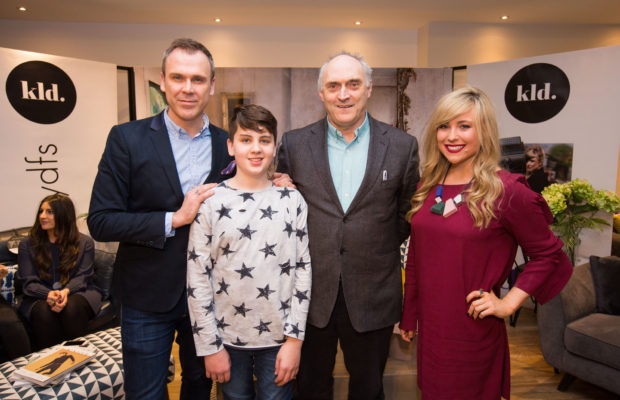 Pictured was Richard Lynch, ILoveLimerick.com, Luke Culhane, Micheal Goulding, CEO of Novas and Roisin Lafferty, Director of Kingston Lafferty design at the DFS design evening. Photo: Oisin McHugh
Over 100 people turned out in style for the DFS design evening in the Limerick store last night on Thursday the 23rd.
Attendees were treated to a lively presentation packed with design tips and secrets from DFS Ambassador and award-winning interiors expert Roisin Lafferty, Director of Kingston Lafferty design. Many guests availed of the opportunity after the presentation for one on one style advice from Roisin and her team.
Roisin has previously expressed her happiness at the choice to support Novas through this one of a kind event, "Novas Limerick offers an invaluable service to the community of Limerick. Homelessness is a cause very close to my heart and I am honoured to be able to aid such an important charity. This event shows the importance of a happy home for everybody."
Guests also enjoyed canapés and drinks, including Wild Orchard juices, from Hook and Ladder, a complimentary copy of Image Interiors and Living magazine and 10% off everything in-store.
The evening was run in association with local charity Novas, who are the largest provider of homeless services in the mid-west region. It was a huge success with €1094 raised for the charity.
Deborah Geraghty of Caherdavin won a sofa and Louise Creamer an Interior Design Consultation with Create at Kingston Lafferty design. Limerick people are already looking to the next DFS event.
Novas is thrilled to be associated with this event with Communications Manager Una Burns stating that, "we try to provide homes for families and single people every day and an event like this highlights the importance of a happy home for everybody. We are extremely grateful to DFS and to Roisin Lafferty for hosting this lovely evening and for decorating our DIAL service in the city."
Novas are a local non-profit organisation working with single adults, families and children who are disadvantaged and socially excluded, primarily homeless people or people at risk of being homeless. More than half of these were from Limerick. The organisation provides a range of services in the city including temporary accommodation, a family service, an out-of-hours service, long-term housing and a street outreach.
To read more stories about Novas click here
For more information on charity events in Limerick click here