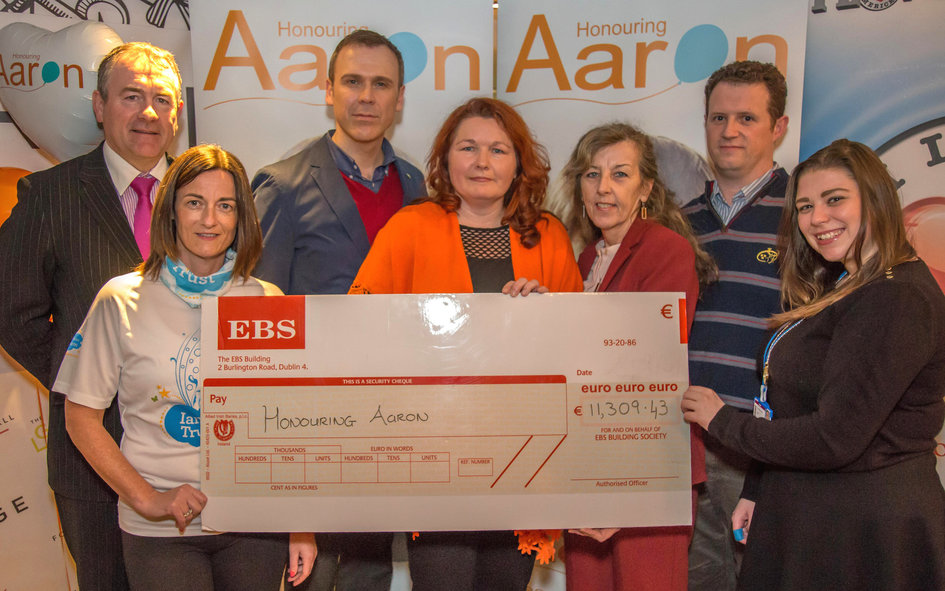 The official launch of Honouring Aaron and its new website took place in the George Boutique Hotel on Monday February 22. The organisation took this opportunity to proudly announce their chosen charities who will benefit from a range of fundraising initiatives during 2016.  Honouring Aaron, previously titled 'Remembering Aaron', was established in 2015 in memory of Aaron O'Flaherty who tragically passed away in 2014 at Temple Street Children's Hospital after an accident at the Blackhead Lighthouse, Co. Clare. The aim of Honouring Aaron is to raise funds for Temple Street Children's Hospital and also a number of children's charities in Limerick.
Cecelia, Aaron's mom and founder of the organisation, remains entirely grateful for the work and support shown by the people of Temple Street during such a traumatic time "They were so good to him. They were all touched by Aaron in the time he was there and treated us with dignity and kindness," Cecelia said.  In 2015, Honouring Aaron raised funds for Temple Street Children's Hospital along with two charities Bumbleance and Cliona's Foundation, plus two Limerick based organisations, Claughauns GAA and Limerick Lakers Basketball. These were selected as they had touched Aaron's life in one-way or another.
At the launch in the George Boutique Hotel in Limerick, it was announced that Temple Street will remain as the main beneficiary of Honouring Aaron for 2016 along with three Limerick based charities; The Blue Box, Ian's Trust and Sophie's Journey Foundation, each benefiting from the upcoming year's fundraisers. The Blue Box Creative Learning Centre provides trained professionals to Limerick schools and families to help children through difficult times using creative arts therapies.
Ian's Trust provides funds to support families of children who suffer from Acquired Brain Injury. The trust was set up by Orla Cusack in memory of her son who passed away in 2012 after suffering from a severe acquired brain injury following a road accident in 2008.  Liam and Stacey Mulcahy founded Sophie's Journey Foundation in January 2015 in memory of their daughter who sadly passed away from kidney failure in 2014. They support families who are caring for children with life limiting conditions.
Speaking at the launch was the official ambassador for Honouring Aaron, community activist and founder of ILoveLimerick.com Richard Lynch. "I am honoured to be representing Honouring Aaron. Each charity the Foundation has chosen to support this year offers invaluable support to families in aid, because children matter. Honouring Aaron is Cecilia's way of giving back to a community that was so supportive of her, as well as a way to honour her late son, by doing something positive." Cecilia, a Civil Defence officer, acknowledged the support offered by the people of Limerick saying that it has been "overwhelming".  She added, "I am thrilled to announce that this May the #Aarthon will be taking place as part of the Barrington's Great Limerick Run to raise awareness for Honouring Aaron, and raise vital funds for our selected charities and I am asking people to please take part in the run on our behalf. I am also pleased to announce that this year the Kids Run in the University of Limerick will be in honour of Aaron."
Take a look at the Honouring Aaron site here
Check out the Honouring Aaron Facebook here and Twitter here
Read more on the I Love Limerick site here