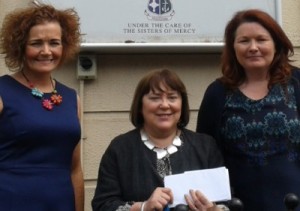 Pictured: Lorraine O'Flaherty, Aaron's aunt, Bernie Price, Temple Street Children's Hospital and Cecilia O'Flaherty, Aaron's mother.
HonouringAaron, an organisation which raises funds for a number of children's charities in the Limerick area, donated €4,227 to Temple Street Children's Hospital this past May.
The initiative, set up in memory of nine-year-old Aaron O'Flaherty who died tragically in 2014, has raised up to €15,000 in total since its establishment.
Cecilia O'Flaherty, Aaron's mother, spoke about Remembering Aaron and why Temple Street Children's Hospital was her chosen target for the donation.
"After Aaron left Galway University Hospital he was brought to Temple Street Children's Hospital. They were so good to him there.
"They were all touched by Aaron in the time that he was there, they would bring him presents all the time."
Cecilia presented the cheque to the hospital, which is an annual beneficiary of the Honouring Aaron organisation, and hopes to meet and thank some of the staff who had cared for Aaron: "I want to get up to meet them, I'll plan a visit the next time I'm up there."
Since its establishment, Honouring Aaron has raised money for a number of local charities, such as; Claughan GAA Club, Limerick Laker's Basketball Club, Cliona's Foundation and the Bumbleance.
Cecilia, a Civil Defence officer, acknowledges the support offered by the people of Limerick, showing her gratitude for every effort made, saying that all the support she has seen has been "overwhelming".
The 2014 UL Sport Kids Run took place in Aaron's memory last year, the day before the Barrington's Hospital Great Limerick Run. Funds raised from the Great Limerick Run go to Galway University Hospital, where he was airlifted to after his accident, and to Temple Street Hospital in Dublin, where he spent his final days.
Donate to "Aaron O'Flaherty Memorial Fund" at EBS bank in the Parkway Shopping Centre. BIC No: EBSIIE2DSDD IBAN No: IE04EBSI93902145610398
Visit the Honouring Aaron Facebook page here
Read more about Honouring Aaron here