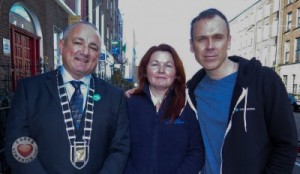 Pictured: Jerry O'Dea, Metropolitan Mayor of Limerick, Cecelia O'Flaherty, Founder of Honouring Aaron and Richard Lynch. Picture: Michelle Hogan/ILoveLimerick.
An U10's Basketball Blitz event in aid of Honouring Aaron, a Limerick fundraising initiative, will be held on Sunday December 6 at Presentation Primary School gym on Sexton Street.
Honouring Aaron, previously titled 'Remembering Aaron', is an organisation which raises funds for a number of children's charities in the Limerick area.
The event will see a number of U10's Limerick basketball teams take part, followed by a cake sale. There will be a cover charge on the door and a charge for entering the basketball blitz.
Honouring Aaron, set up in memory of nine-year-old Aaron who died tragically in 2014, has raised up to €15,000 in total since its establishment.
Cheques will be presented on the day to charities who have been the beneficiaries of the initiative, with Jerry O'Dea, Metropolitan Mayor of Limerick, in attendance.
This will be the second year running of the Basketball Blitz in memory of Aaron, with a fun-filled event having taken place in 2014.
Basketball meant a great deal to Aaron as a member of the Limerick Laker's, whose jersey was retired last year in a mark of respect and remembrance at the blitz event in 2014.
Temple Street will remain as an annual beneficiary of Honouring Aaron, with two Limerick charities, The Blue Box and Sophie's Journey Foundation, both benefiting from the fundraising initiatives of Honouring Aaron in the future.
Cecelia O'Flaherty, Aaron's mother, spoke about Honouring Aaron and why Temple Street Children's Hospital was her chosen target for the donation.
"After Aaron left Galway University Hospital he was brought to Temple Street Children's Hospital. They were so good to him there.
"They were all touched by Aaron in the time that he was there, they would bring him presents all the time," Cecelia said.
Since its establishment, Honouring Aaron has raised money for a number of local charities, such as; Claughan GAA Club, Limerick Laker's Basketball Club, Cliona's Foundation and the Bumbleance.
Cecelia, a Civil Defence officer, acknowledges the support offered by the people of Limerick, showing her gratitude for every effort made, saying that all the support she has seen has been "overwhelming."
The 2014 UL Sport Kids Run took place in Aaron's memory last year, the day before the Barrington's Hospital Great Limerick Run.
Funds raised from the Great Limerick Run go to Galway University Hospital, where he was airlifted to after his accident, and to Temple Street Hospital in Dublin, where he spent his final days.
Donate to "Aaron O'Flaherty Memorial Fund" at EBS bank in the Parkway Shopping Centre. BIC No: EBSIIE2DSDD IBAN No: IE04EBSI93902145610398
Follow the Honouring Aaron Facebook page here
Follow the Honouring Aaron Twitter here
Read more about Limerick charity here