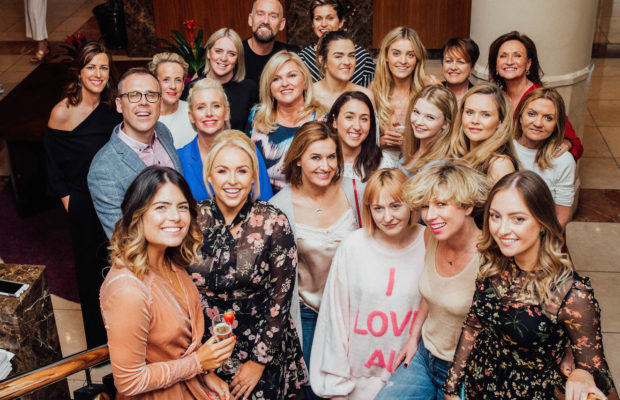 For #LimerickTagged LSAD360 over 20 leading Irish and international fashion media and influencers came to Limerick for a showcase of Limerick's fashion industry. The event was organized by Asta, Cecile and Celia from The Holman Lee Agency in association with Laura Ryan from Limerick City and County Council's Office of Communications & Marketing. Picture: Brian Arthur.
#LimerickTagged 2017 was trending as number one in Ireland on Twitter on Thursday, May 11th beating the Eurovision and the visit of Prince Charles and the Duchess of Cornwall to Ireland.
The aim of #LimerickTagged was to promote Limerick as a fashion, food and lifestyle destination.
Over 20 leading Irish and international fashion media and influencers converged on Limerick for 24 hours for a showcase of Limerick's fashion industry, highlighting independent boutiques, designers, and young fashion design talent. Limerick City collaborated with LSAD to plan the day, the first time an Irish city has hosted such a happening.
The event organised to raise Limerick's fashion profile by the Holman Lee Agency in association with Limerick City and County Council's Office of Communications & Marketing welcomed Michelle Newman, staff editor of Women's Way; Aisling O'Loughlin from Exquisite.ie; Sybil Mulcahy from Evoke.ie; Aine O'Donnell from Goss.ie; Brendan Courtney & Sonya Lennon design duo, Paula Lenihan, editor of RSVP Magazine; Jennifer Stevens, editor of Irish Country Magazine; Roxanne Parker, fashion stylist; Louise Cooney, fashion, lifestyle & travel blogger; James Kavanagh, snapchat influencer and entrepreneur; Lauren Arthurs, fashion, lifestyle & travel blogger; Maria Walsh, former Rose of Tralee and events manager for Workbench; Zoe O'Connor, fashion blogger; Sinead O'Brien, fashion blogger; Sharon Tucker, fashion blogger; Richard Lynch, founder of I Love Limerick and Gemma Williams from Vogue Italia.
The day's proceedings started with brunch at HOUSE Limerick showcasing Limerick boutiques/ fashion stores, jewellery and accessories on models from the Holman Lee Agency. The guests of #LimerickTagged were treated to amazing goodie bags sponsored by Limerick.ie, Skechers Ireland, Newbridge Silverware, Keanes Jewellers, Brown Thomas Limerick, Matthew Stephens, Ryan's Jewellery, Limerick Strand Hotel, Tadhg Kearney, Adare Manor, Shannon Heritage, Serendipity Shoe Boutique, The Lily Store, O'Donnell's Boutique and Shannon Airport which offered return flights from Shannon to Stockholm as a prize for the best tweet.
Following on from Brunch, the day continued with High Fashion Afternoon Tea and a Munster Designer showcase in The Savoy Hotel, where guests sampled magnificent creations from Chef De Partie Graeme Campbell accompanied by a glass of prosecco. Laura Ryan, Head of Communications/Marketing, Limerick City and County Council explained to guests about Limerick's long history as a fashion hub, the legacy of Limerick Lace and fashion manufacturing in the city.
Next stop was TED's Bar &Venue for nibbles and cocktails and a mini display of Holman Lee Agency models wearing award-winning Avant Garde hair pieces from Hugh Campbell Hair Group.
The day culminated with Limerick School of Art & Design, LIT, presenting the LSAD 360 Fashion Show at The LSAD Gallery. Recently named in the top 100 fashion schools in the world, the LSAD fashion department, and the graduate degree is the largest fashion degree programme in Ireland and has launched the careers of some of Ireland's top designers like Joanne Hynes. Twenty of this year's talented graduates showcased their unique creations at the LSAD360 Fashion Show, which had an international twist, as a number of the graduates had returned from exciting intercontinental work placements with Marc Jacobs, New York, Manish Arora, India and Lever Couture, Berlin.
Ms Williams, who hopes to feature some of Limerick's rising talent in an upcoming issue of Vogue Italia, has attended the LSAD360 fashion show for the past three years.
She said she has been "very impressed" with the talent emerging from the school. "There have been some really interesting talents and I think it's really putting Limerick on the map, so it's very exciting. I think Limerick has a really interesting niche in the market at the moment," she told the Limerick Leader.
"What really comes through is the sense of community in the best possible way," enthused Ms Lennon. "The whole fashion industry in Limerick has really pulled together to create a really extraordinary event."
Mr Courtney added: "Limerick really has it. The love affair begins. LSAD has really clawed its way to the top of the ladder, and I think that it's generally conceded that it is the most innovative fashion college in Ireland."
Mike Fitzpatrick, Head of Faculty at Limerick School of Art and Design: "The LSAD Graduate Fashion Show 2017 is a wonderful opportunity to witness the outstanding talent that is synonymous with Limerick School of Art and Design. The award winning designs showcased in our wonderful church gallery will offer a unique insight into the high standards of their work over the past four years as they embark on their exciting careers on the International Fashion stage."
2016 was another hugely successful year for LSAD students who won; The Student Designer of the Year Award at The Fashion Innovation Awards, The Future Makers Student of the Year Award, IDI Graduate Designer Award (fashion category), People To Watch, Irish Times, (Michael Stewart) and the AIB/IFIL Work Bursary Award, (three month full time work placement with London-based Irish designer Richard Malone.)
Laura Ryan, Head of Marketing/Communications, Limerick City and County Council said, "Limerick's love affair with fashion is internationally recognised. We're delighted to feature the work of locally based designers, independent retailers based in the city and the young designers emerging from LSAD many of whom go on to work in fashion houses around the world. It's a unique collaboration between a local authority and LSAD to market Limerick as a fashion destination and we're delighted to have so much interest already in the day. We're blessed to have such a fantastic Ambassador like Celia Holman Lee and her agency coordinating the day's activities for us and we're sure that our visitors will have a fantastic experience of what promises to be a really fun and entertaining visit to Limerick."
Model agent Celia Holman Lee said the logistics of putting the event together took months, and the organisers hope to hold a second event in county Limerick later this year.
For more fashion stories go HERE.