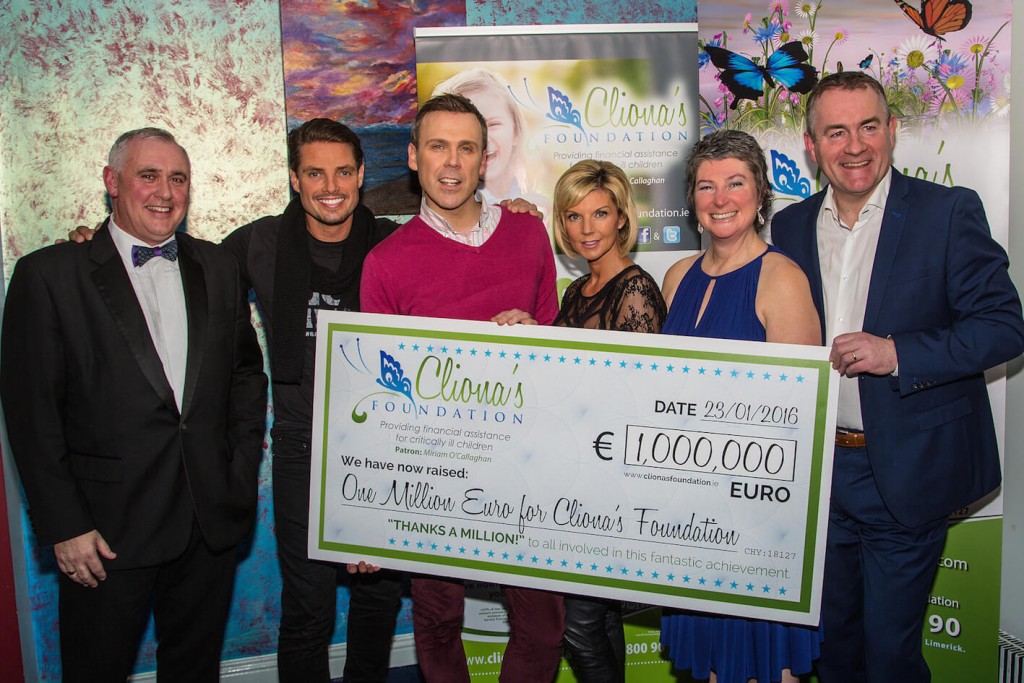 To celebrate their 9 year anniversary, Cliona's Foundation Annual Celebratory Night 2016 took place in Bulgaden Castle last Saturday evening. The evening of celebrations kicked off at 9pm and featured a VIP appearance from singer, actor and philanthropist Keith Duffy on behalf of his charity the Keith Duffy Foundation.
Prior to the event Keith made a captivating statement of why he got involved with Cliona's Foundation, "I'm delighted to be part of the celebrations and to help the Foundation with the work they do, it is something that's close to my heart as I have seen the financial burden on families caring for a critically ill child and as part of my work with the Keith Duffy Foundation which aims to provide support and financial assistance to a number of chosen children's charities throughout the country."
Keith and his wife Lisa arrived at Bulgaden castle at 9pm having travelled down from Dublin specifically for the event. It was a heart filled moment when Brendan and Terry Ring, the founders of Cliona's Foundation met Keith, as it was the first time they had met in person. The night kicked off in celebration as Keith announced that Cliona's Foundation has risen €1,000,000 to date which is now providing funding for over 300 families.
Brendan expressed his gratitude for Keith, referring to Keith as "an inspirational man" that has profoundly helped the foundation getting to an astonishing goal of one million euro. The celebrations didn't stop there as Keith did a Q&A in front of the crowd of more than 300 people.
Keith made an inspirational speech as he quoted "united we stand, divided we fall" when referring to working with Brendan and Terry. Cliona Ring was never far from the hearts of her parents, Brendan and Terry, as they specifically picked the month of January to celebrate the annual event as Cliona's birthday is at the beginning of the month.
Richard Lynch of I Love Limerick introduced Keith to Brendan and Terry and he never realised he had met Cliona when she was a little girl. Last week Brendan and Terry sent him old photos they found of Cliona meeting Boyzone when she was a little girl. Keith felt that Cliona brought him and the Foundation together and he told the crowd that Cliona and his good friend Stephen Gately were now "watching over them like two angels from heaven."
Brendan referred to the continued struggles of parents with ill children, "we realize from our own experience the expense of travelling into a hospital on a continual basis, it's paying for the simple things like a newspaper or lunch." Having raised one million euro Cliona's foundation will continue to help families pay for these expenses in the coming year! See www.clionasfoundation.ie or www.keithduffyfoundation.ie for more info.
Feature Image, Photo Credit – I Love Limerick, Dolf Patijn
For further information about Clionas Foundation you can, click here
You can follow Clionas foundation on twitter and facebook
You can also check out the Keith Duffy Foundation website, here
You can follow Keith on Twitter
For more related articles by I Love Limerick, click here
[nggallery id = 12]